This year over 1 million members of the British public voted for what is the biggest award in the food and drink calendar representing restaurants nationwide.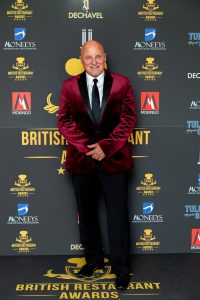 Popular chef Aldo Zilli won the Best Chef category and in his acceptance speech said "The British Restaurant Awards represents consumers and to be part of this year's winning shortlist is an amazing achievement". The Ritz beat stiff competition to be crowned Best Luxury Restaurant 2022. Happy Bar & Grill was voted Best Restaurant in London and Best Hospitality team whilst the Queen Elizabeth Lifetime Achievement Award was awarded to the renowned Michelin star Chef, Jean Christophe Novelli MBE who commented "The British Restaurant Awards is the single most important awards show in the food and drinks industry here in the UK and it is an honour to be honoured for all my year's in the culinary business. I would like to thank the BRA Team and everyone who continues to support everything I do". His heartwarming 10-minute speech will be available on the BRA social media platforms later on in the week.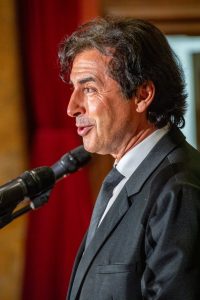 Here is the full list of winners for the BRA 2022;
Best New Restaurant 2022
Miro Mayfair – London
Best Chef
Aldo Zilli
Best Young Chef sponsored by JIJI Restaurant
Amber Francis
Best Luxury Restaurant
The Ritz (London)
Restaurant of the Year
Kutir, London
Best Hospitality Team
Happy Bar & Grill – London
Best Restaurant Chain
Thai Square
Best Takeaway Restaurant
Chamisse (London)
Best Food Ordering Company
Deliveroo
Best Culinary Experience
Peter Street Kitchen (Manchester )
Best Restaurant Manchester
Gaucho Manchester
Best Restaurant in London
Happy Bar & Grill – London
Best Restaurant in Liverpool
Lerpwl
Best Restaurant in Wales
Zero Degrees
Best Restaurant in Surrey
The Ivy Asia, Guildford
Best Restaurant in Essex
Brohmon
Best Restaurant in Newcastle
Aveika
Best Restaurant in Sheffield
Neon Fish
Best Restaurant in Bradford
Café J'adore
Best Restaurant in Bristol
Namak
Best Restaurant in Brighton
The Ivy in the Lanes
Best Restaurant in Leeds
Blue Sakura
Best Restaurant in Birmingham
Piccolino Birmingham
Best Restaurant in Southampton
Blue Jasmine
Best Restaurant in Cambridge
Bedouin
Best Restaurant in Leicester
Saffron Street
Best Bar sponsored by Tulchan Gin
Swift Soho, central London.
Best International Cuisine
Chotto Matte
Best Vegan-Friendly Restaurant
Stem + Glory (Cambridge)
Lifetime Achievement Award 2022
Jean Christophe- Novelli MBE